Solutions to Minimizing Volume
Compared with conventional coiled springs, our coiled wave spring is capable of maximizing the spring rate with a wire minimum in diameter, thus reducing weight and minimizing the volume. This also lowers the mounting height, so it's especially suitable if minimum movement is required. We have a good amount of experience with replacing coil springs for wave springs, so please feel free to consult us for a solution.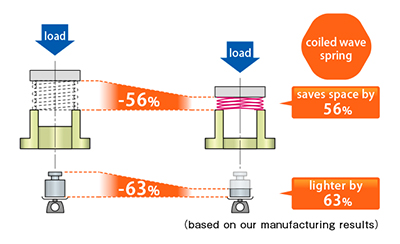 | | |
| --- | --- |
| Category | Range |
| Outer Diameter (D) | 5-400mm |
| Thickness (t) | 0.1-1.5mm |
| Width (W) | 0.4-12mm |
| Available Material | SS631J1、SS304、 17-7PH、Inconel |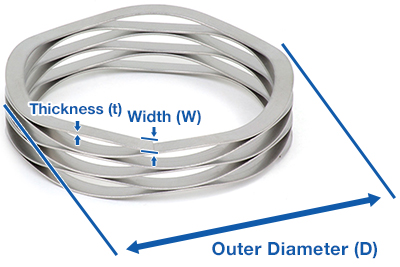 Reduction of Side Forces
A compressed spring uses its repulsive force generated from the load applied in the axial direction. However, with the coiled spring, an excessive force is generated in its horizontal direction (radial force). This is called side force. As shown in the figure, the center axis shifts due to the change in the pitch angle when the coiled spring is being pressurized. Side forces can be a negative factor that affects the performance of embedded products, such as interference with the working cavity or applying an uneven load specification. However, with our highly advanced coiling technology, we're able to produce with the side force reduced down to 20% (results were based on 6 coils for coiled springs, 12 coils for coiled wave springs).
Unrivaled Manufacturing Process
As mentioned before, coiled wave springs can reduce its weight and volume to maximize its spring rate. But as a tradeoff to this, the load becomes vulnerable to deflection, causing an imbalance in the pressure.
We can provide a solution for this. Our expertise is based on years of experience handling both light and heavy duty, with original equipment designed to reduce inconsistence in the load.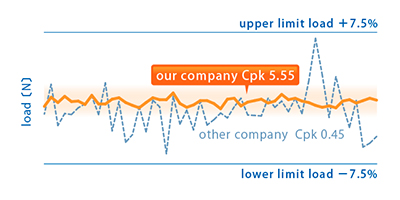 Load - Deflection curve of Coiled Wave Spring
According to Japan Industrial Standards, it is recommended to use coil springs at 20% to 80% of the amount of deflection. The relationship is said of the coiled wave springs. Coiled wave springs have a discrepancy between calculated and measured values. Generally, the actual spring rate is smaller than the calculated values at the small deflection. On the other hand, it is higher than the calculated values beyond the inflection point. The point appears at around 50% of the deflection. It depends on the specification of coiled wave springs.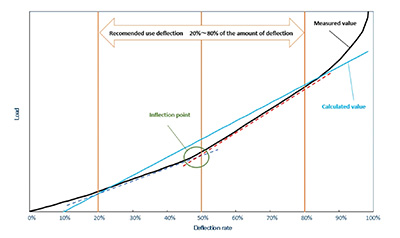 Types of Coiled Wave Springs
Multi-Turn Wave Spring with Plain Ends

This is the most common type of coiled wave spring. By reducing the size to its minimum while maintaining the highest possible number of coils, it distributes consistent spring force, with just the right amount of deflection for the application.

Multi-Turn Wave Spring with Shim Ends

By providing a shim on both ends, the contact surface becomes absolute, further distributing an even spring force within the working cavity. Moreover, you can devise the shape of the shim, making the assembly smoother for the cavity. A downside to consider is the expansion in volume (free height), and additional use of material leading to higher cost.

Wave Washer Overlap Type

Compared with conventional coiled wave springs, these can generate high loading forces with short deflections. It's largely cost effective for its efficient use of material in comparison to wave washers which are punched out from plates.

Wave Washer Gap Type

These are recommended for minimal application height for limited cavity space. The con is its tendency to get tangled when handling.

Nested Wave Spring

A Nested Wave Spring is one continuous filament of wire stacked in parallel. The conventional method of layering multiple wave washers is no longer necessary. These springs have a spring rate that increases in ratio to the number of turns, as a result bearing a great amount of load.
FAQ
Is it possible to exchange a pressing washer with a wave washer (for cost reduction purpose)?

Yes. We've had success with this. In general, the wave washers tend to have a lower spring rate than pressing washers, so customization would be required to compensate this issue.
Do you have a standard product for coiled wave spring?

We don't have any standard items in particular. We try to offer customized products or propose solutions based on your needs.
Can you manufacture an identical product of another manufacturer's coiled wave springs based on their catalogue?

Yes we can. We've had many achievements on manufacturing and exporting as an OEM for foreign spring manufacturers.
What kind of materials do you handle for coiled wave springs?

Hard steel wire, SS 304, SS 316, 17-7PH, and Inconel. Please consult us if you're interested in any other materials.
How long does it take until delivery?

If your order can make use of our current inventory and fixtures, we can deliver it to you in 1 week at the fastest. If the order requires new material and fixture, then it would take at least 1 month.
Why is there a brown or blue luster despite the fact that it's stainless?

This is due to the heat treatment done in a special furnace, mainly for improving the strength of the material, and also to avoid any processing strains such as warping when coiling. The change in color is a reaction by the plating applied to the original material and the oil attached to the surface when put in the furnace.
Feel free to contact us