Snap Rings (Retaining Rings)
Snap ring is a type of fastener or retaining ring made of stainless steel that secures the shaft or bearing with appropriate elasticity. The shape of the end-tip can take on various shapes according to your needs.
Category
Range
Outer Diameter (D)
5-400mm
Thickness (t)
0.1-1.5mm
Width (W)
0.5-12mm
Available Material
SS304、 SS316
※We provide custom manufacturing in other materials for wave springs and coiled springs. Feel free to inquire for more details.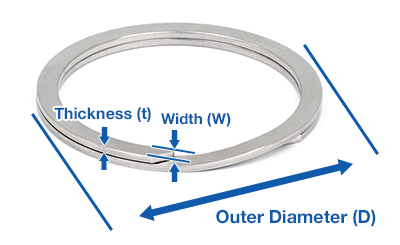 Feel free to contact us