Our products are manufactured in a fully customized facility, ready to produce highly functional springs in a wide variety of forms. We also offer an abundance of materials to choose from our lineup.
Category
Range
Outer Diameter (D)
2-75mm
Thickness (t)
0.1-4.5mm
Available Material
SS304、 SS316, 17-7PH, Hastelloy-C276, Hastelloy-C22, Hastelloy-B, Inconel, Titanium, Phosphor Bronze
※Available thickness in Hastelloy series are up to 1.2mm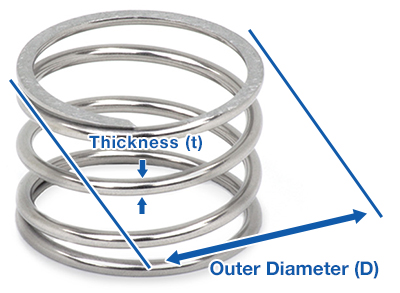 Types of Coiled Springs
Standard Wire Springs

By changing the number of coil and the width of the wire, the spring rate can be freely adjusted to your desire. For compression and tension springs, conical (tapered) form is also optional, as well as selecting the winding direction (left or right).

Minimum Coiled Springs
(Non-JIS Standard)

With less than 3½ coils, these springs can take on a high amount of load while still saving some space. They're not under JIS (Japanese Industrial Standards) but we're capable of production.

Thick Wire Springs

For heavy duty jobs, a spring with a maximum of 10mm wire thickness with an outer diameter of 160mm is possible. Minimizing the number of coil with thicker material creates a spring with high-load capacity while cutting down on size to save space. We also produce unpolished types made for improving application, which are rarely manufactured with thick wires.
FAQ
Is SS 316 resistant to an environment exposed to seawater?

Even with the SS 316 there is a possibility of corrosion when exposed to seawater. We recommend Hastelloy as an alternative, they have a higher resistance to corrosion.
What material do you recommend for using in a high temperature environment?

We recommend Inconel. Based on the expected use of environment (temperature and or conditions) we can propose solutions with methods for optimum heat treatment.
Is it possible to exchange the spring wires on a piano string to stainless steel?

Yes, it's possible if the measurements of the wire thickness and diameter are appropriately readjusted. If there are restrictions for changing its size (due to installation purpose), we can provide alternative stainless steels that's equivalent in strength and durability to SWP-B type piano wires. Please feel free to consult us for more details.
Feel free to contact us